Mindemoya, ON – On November 9, 2022, Manitoulin's local off grid radio station, Manitoulin Radio Communication in conjunction with Manitoulin Country Fest donated $10,000 to the Manitoulin Health Centre. These funds are earmarked for the Let's Emerg Together campaign, the renovation and expansion of the Mindemoya Emergency Department.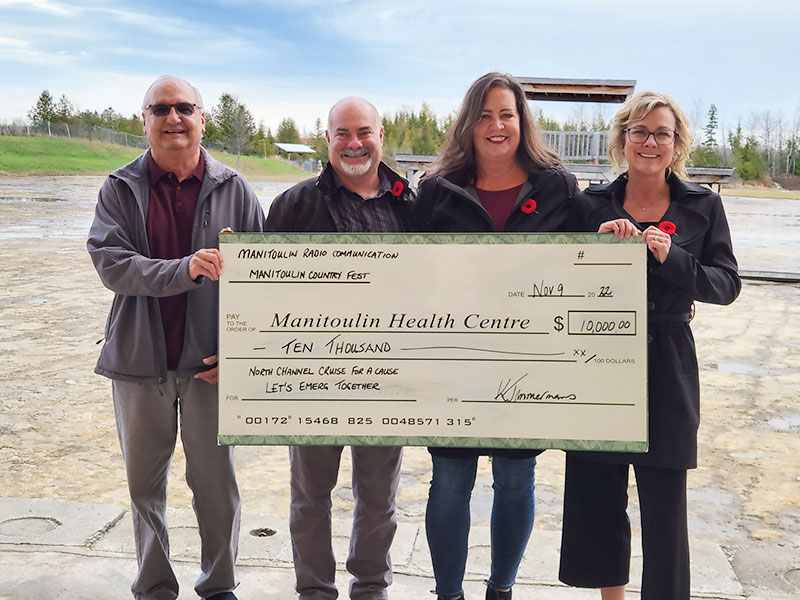 This past summer saw the return of the 16th annual Manitoulin Country Fest, organized, hosted and funded by Manitoulin Radio Communication. The event kicked off with a fundraising boat tour featuring Canadian country star, Jason Blaine. A sold-out crowd enjoyed an evening of country music in an intimate setting aboard Le Grand Heron, the North Channel Cruise Line's flagship vessel. The total of funds raised on the Cruise for a Cause was $6,340. When asked about the $10,000 total, Craig Timmermans said "We are responsible for bringing thousands of people into our community, many of whom may use our hospital. We wanted to take this opportunity to give back and thought we should round that number up to $10,000. We are so fortunate to have the level of health care we do. Thank you to the Manitoulin Health Centre and all the health care workers that work so hard to ensure we have quality health care here on Manitoulin".

Dennis McGegor, Chair of the Board said "On behalf of the Board of Directors, we would like to acknowledge and thank both KT and Craig Timmermans and the staff at Country Fest for all their efforts this past summer, and of course this very generous donation to the Lets Emerg Together campaign."

"Thank you so much to the Craig and KT Timmermans, everyone at the radio station, the festival and Chris Blodgett from North Channel Cruise Line. Their collective dedication to our community is second to none. Not only did they generously donate from the Cruise to a Cause, they allowed the hospital to be on site during the festival to help create awareness of our facilities and our fundraising efforts" said Paula Fields, President and CEO of MHC.

About Manitoulin Radio Communication and Manitoulin Country Fest
The radio station was launched by Manitoulin born, Craig Timmermans back in 2001. In 2007, alongside his wife, KT, they launched the first Manitoulin Country Fest. Craig and KT live in Little Current and are dedicated stewards of Manitoulin Island.
Media Contact: 
Kelly Timmermans
Communications and Development Co-ordinator
Manitoulin Health Centre
(705) 368-2300, ext 2335                         
Main Image, left to right: Canadian country star, Jason Blaine; Paula Fields, President and CEO of MHC and KT Timmermans, Manitoulin Radio Communication
Inset Image, left to right: Dennis McGregor, Chair of the Board of Directors of MHC; Craig Timmermans and KT Timmermans on behalf of Manitoulin Radio Communication/Manitoulin Country Fest; Paula Fields, President/CEO of MHC
The Manitoulin Health Centre (MHC) is a two-site small rural hospital serving the people of Mnidoo Mnising (Manitoulin Island). We are proud to operate on the traditional lands of the Anishinabek people. MHC is committed to ongoing action, awareness, and education that build on reconciliation efforts, and to work against anti-Indigenous racism. We honour the land and First nations presence, practices, language, ceremonies and protocols.