Mindemoya, ON - BMO today announced a donation of $200,000 to the Manitoulin Health Centre (MHC). The funds have been earmarked for the Let's Emerg Together campaign which supports the renovation and expansion of the Mindemoya Emergency Department.

In honour of their contribution, the new waiting room in the Emergency Department in Mindemoya will now been known as the BMO Emergency Waiting Room.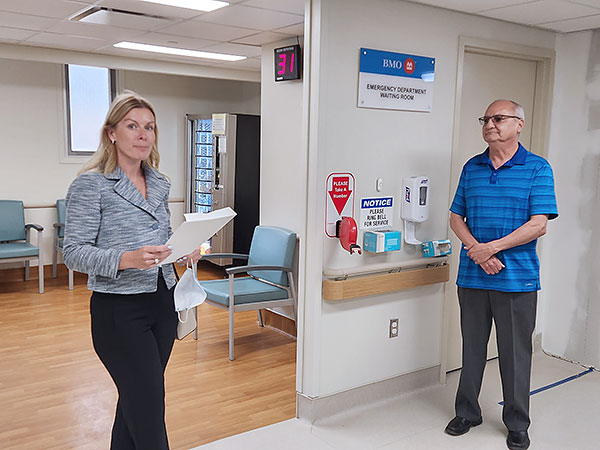 When asked about the importance of this pledge and donation, Jennifer Carbone, Regional Vice President, Personal Banking Prairies Central Region, BMO said: "BMO is proud to serve the Manitoulin Island community with teams in Little Current, Mindemoya, Gore Bay and Manitowaning, and we are thrilled to play a role in the development and expansion of the Mindemoya Emergency Department at MHC. This donation will support the progress being made in local healthcare delivery, with a direct impact on the health and wellbeing of people in our community, exemplifying BMO's Purpose, to Boldly Grow the Good in business and life."
When asked about the donation, Dennis McGregor, Board Chair said "On behalf of the Board of Directors of MHC, we would like to express our sincerest gratitude to BMO for their very generous donation to our Lets Emerg Together campaign. MHC is proud to have BMO as our banking partners and are grateful for the outstanding Corporate Citizenship they continue to demonstrate to all the people of Manitoulin Island."
Paula Fields, President and CEO of MHC said "Thank you so much to BMO for this very generous donation which will have direct impact towards the health and wellness of our community. All of us at MHC appreciate the corporate stewardship and sense of community of BMO."
For any media inquiries, please contact 
Kelly Timmermans
Communications and Development Co-ordinator
Manitoulin Health Centre
(705) 368-2300, ext. 2335                         
Main image: Cutting of the ribbon on the BMO Emergency Department Waiting Room
Left to right: Paula Fields, President and CEO MHC; Kim Cooper, BMO Branch Manager, Little Current; Kimberley Chesney, Board Member MHC; Dr. Maurianne Reade, President of Professional Staff; Jennifer Carbonne, RVP, Personal Banking; Eric Theriault, VP of Corporate Support Services and CFO MHC; Joe Bard, BMO Assistant Market Leader; Andrew Brooks, BMO Senior Relationship Manager, Commercial Banking Group; Dino Rocca, BMO Market Leader, Private Wealth;  Dennis McGregor, Chairman of the Board, MHC (cutting the ribbon)
Inset image: Jennifer Carbone, RVP, BMO Personal Banking with Dennis McGregor, Chairman of the Board
The Manitoulin Health Centre (MHC) is a two-site small rural hospital serving the people of Mnidoo Mnising (Manitoulin Island). We are proud to operate on the traditional lands of the Anishinabek people. MHC is committed to ongoing action, awareness, and education that build on reconciliation efforts, and to work against anti-Indigenous racism. We honour the land and First nations presence, practices, language, ceremonies and protocols.
About BMO Financial Group
BMO Financial Group is the eighth largest bank in North America by assets, with total assets of $1.15 trillion as of January 31, 2023. Serving customers for 200 years and counting, BMO is a diverse team of highly engaged employees providing a broad range of personal and commercial banking, wealth management, global markets and investment banking products and services to 12 million customers across Canada, the United States, and in select markets globally. Driven by a single purpose, to Boldly Grow the Good in business and life, BMO is committed to driving positive change in the world, and making progress for a thriving economy, sustainable future and more inclusive society.